Community Support Dogs
We train clients' own dogs specifically to be skilled in behaviours appropriate to different types of facility.
This program allows owners to:
Train their dog (with our help) to a very high level of skill
Have the opportunity to give back to the community
Put smiles on the faces of those that are vulnerable or need specific care in our community
Give their pet dog a 'job' or 'purpose'
Feel a deserved sense of pride in their team i.e. their dog and themselves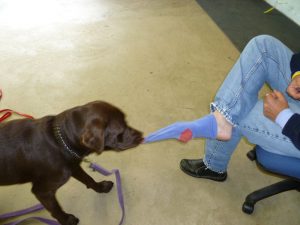 The facilities visited by Bright Bessy Community Support Dog teams may include hospitals, schools ,group residences for those with a disability and nursing homes.
Individual Support Dogs
Training your pet to help.
The individual support dog training program designed by the owner and principal trainer of Bright Bessy Dog Training is one of a kind.
We believe any pet dog can be trained to help its owner, as long as the dog has the appropriate temperament. We can teach dogs to perform multiple tasks.
The owner plays an integral part in the training of their own dog.
The owner needs to have total commitment to this program.
Dogs that have been trained the Bright Bessy way have ranged in age from 8 weeks to 10 years and have included several diverse breeds from mastiffs to fox terriers.
We train your dog up to Public Access Test level.