Reputedly the most effective, comprehensive puppy school on the NSW North Coast.
Several day and time options available.
Kyra is the puppy school facilitator and recommended dog trainer and behaviourist for Blue and White Vet Clinic in both Woolgoolga and Coffs Harbour,Woolgoolga Vet Clinic,Rose Ave Vet Clinic ,Toormina Rd Vet Clinic and Pacific Vet Care Sawtell.
Our puppy schools provide the best scenario possible for training your pup because:
Kyra – the facilitator -is a certified and practicing dog trainer and behaviourist with several years of experience in dealing with 'dog problems'.If a pup shows signs of an undesirable behaviour – Kyra is able to correct the behaviour in an appropriate and informed manner.
We don't just teach your pup how to play – we teach it all of the basic skills it needs in order to lead a happy and confident life.
Skills are taught to your pup thoroughly before progressing onto another behaviour. There should be no claims to fame for teaching the pups several behaviours in a short period of time.
Your pup is safe at all times and if it is reactive at pup school – it is not crated or segregated for long periods .
We teach you how to train, understand and care for your dog.
We teach your pup to respond to you – not just to treats.
You will begin a happy partnership between you and your dog.
Puppy school is taught in a supportive, non-competitive environment.
Only gentle and positive training methods are used. Physicality of any kind is not accepted in our schools.
You will develop a confident, well-behaved dog.
Run over a period of five sessions
Sessions are of one hour duration – more than one hour is far too long for a pup
Will issue certificates to all pups
– graduation or participation
Fee payable on first night
Children over 5 welcome
Limit – three family members
A second level pup school is also offered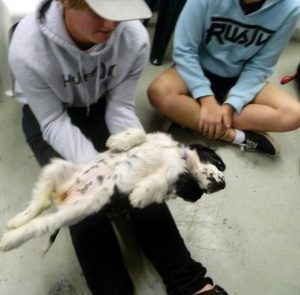 To enrol
Phone through your details to Kyra on : 0402 795 716 or message on the Bright Bessy Dog Training Facebook page.